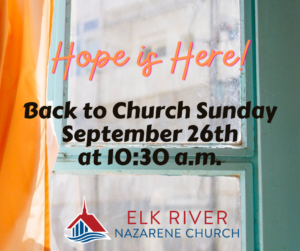 We are immersed daily in stress, bad news, long work hours, and global problems. We hear little good and as a result, we can feel somewhat hopeless at times. But we have an abundance of hope through Jesus Christ. Hope is here.
If it's been some time since you went to church, or maybe you've never gone; now is the perfect time to come back. Join us for Back to Church Sunday on September 26th. You can attend in person, or attend virtually online through our Facebook Live Streaming! Our worship service starts at 10:30 a.m. You'll feel at home here among friends.
Hope is here! Come and find a place to of friendship & purpose; where we can meet Jesus, and take the journey of life together!
---